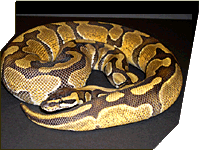 Genetic Morph: Enchi Pastel Jungle, Enchis
Status: Proven Co-Dominant
When: 2002
By Whom: Sweball

The "Enchi Pastel" is a new line of Pastel proven in Sweden. More info and great pics can be viewed at www.sweball.com. the "Super Enchi" is unreal!!!
Some Enchis have been brought into the US as of 2005.....I would expect to start seeing baby Enchis hatched in the US sometime in the summer of 06.
Text by Ralph Davis